Stereoscopic Multiplexer Overview
Introduction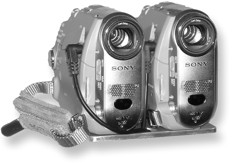 Stereoscopic Multiplexer is a Windows driver that allows you to capture stereo­scopic video from two separate cameras. It combines video data from DV camcorders, Firewire or USB webcams and most other capture hardware to a single stream in side-by-side format. It can be used within Stereo­scopic Player as well as third party video software that supports WDM capture devices, for example Windows Media Encoder. Recording in AVI format is possible within the Stereoscopic Multiplexer user interface.
Benefits
Watch your 3D DV recordings without transferring them to hard disk first. The Stereoscopic Multiplexer synchronizes the tapes drives after each scene change, making it possible to get the images directly from the DV device. Click here for more details about tape synchronization.
Use Stereoscopic Multiplexer, Windows Media Encoder and a pair of webcams, industrial cameras or DV camcorders to stream live 3D content over the Internet. Use Stereoscopic Player to receive Windows Media streams.
Use Stereoscopic Multiplexer and any capture application to record stereoscopic videos to hard disk.
Use Stereoscopic Multiplexer and Stereoscopic Player to get a stereoscopic preview during 3D shooting (to tape).
Use Stereoscopic Multiplexer and Stereoscopic Player to align and setup your cameras.
Stereoscopic Multiplexer comes with an easy-to-use configuration tool. A step-by-step wizard guides you thru the configuration.