MVC to AVI Converter
Introduction
The MVC to AVI Converter converts MPEG Transport Stream files (*.mts, *.ssif) and MP4 files (*.mp4) that use the H.264 MVC codec to two AVI files. It creates one AVI file for the left view and one for the right view. Our software allows you to convert your MVC recordings to a format compatible with all existing video software. MVC files no longer cause troubles if they are not support by your favourite video processing application yet.
Multi-view-coding (MVC) is an extension of the proven H.264/AVC industry standard that saves approximately 50% of the right view's datarate (compared to ordinary H.264 coding). This is achieved by exploiting the correlations between the left and right views during encoding. MVC has been adopted for 3D Blu-ray disks and is the recording format of the latest generation of 3D camcorders.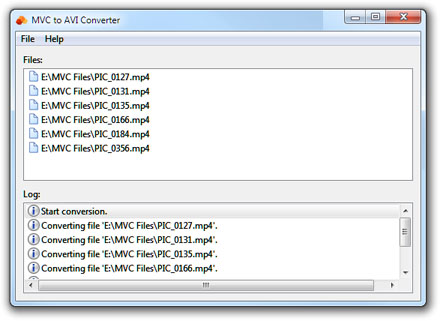 Usage
Click File|Add Files to add MVC files to the batch list, then click File|Start Conversion to convert all files in the list to AVI format. The AVI files are stored in the same folders as the MVC files. The distinctive -l and -r suffixes are added to the AVI filenames. The audio track is written into the left file, but is only processed if the ffdshow Audio Decoder is installed on the system. By default, the converter creates uncompressed AVI files but you can choose a video encoder in the settings dialog to create compressed files.
System Requirements
Windows 7, Windows Vista, Windows XP or Windows Server 2008/2003
ffdshow (for audio support only)